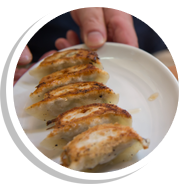 We continue to commit to the quality of the taste and safety for our customers. All handmade internal Gyo-za recipe allows our customer to enjoy the Gyo-za without sauce.
Made fresh from scratch everyday unlike the ones served from frozen Gyo-za. This unique commitment provides the taste and the textures that cannot be replaced with mass produced Gyo-za. Our priority is to use quality and healthy ingredients therefore, NO Lard and NO preservatives are used. We are proud of our unique Gyo-za making process that included our extremely chewy Gyo-za skin and the juicy Gyo-za inside recipe.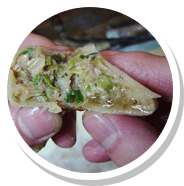 Gyo-za are cooked immediately after each order therefore the time may take longer. Please enjoy our variety of fast serving Izakaya dishes and alcohol while waiting for the Gyo-za. You can order our Gyo-za to go.
We want to provide the most comfortable atmosphere, so please treat this place as your own home and come back anytime!